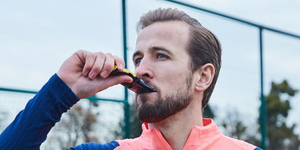 Η ΚΑΦΕΪΝΗ ΣΤΟ ΠΟΔΟΣΦΑΙΡΟ
Όλοι γνωρίζουμε τι είναι η καφεΐνη και τις επιπτώσεις της. Ωστόσο, σε αυτήν την περίπτωση εξετάζουμε τα οφέλη της καφεΐνης συγκεκριμένα για τους ποδοσφαιριστές.
Η χρήση ενεργειακών τζελ καφεΐνης και συμπληρωμάτων πριν την προπόνηση, έχουν γίνει όλο και πιο δημοφιλή τα τελευταία χρόνια. Ο στόχος αυτών των προϊόντων είναι να βελτιώσουν την απόδοση μέσω της αύξησης της εγρήγορσης, της συγκέντρωσης, της δύναμης, της αντοχής, των τεχνικών δεξιοτήτων και της λήψης αποφάσεων.
 Η καφεΐνη είναι σχεδόν πάντα το κύριο συστατικό που χρησιμοποιείται σε προϊόντα πριν την προπόνηση και τα παιχνίδια και είναι ίσως το πιο ευρέως μελετημένο και αποδεδειγμένο από όλα τα βοηθήματα. Πράγματι, η καφεΐνη έχει αποδειχθεί σταθερά ότι βελτιώνει τη σωματική απόδοση σε μια σειρά από αθλήματα αντοχής όπως τρέξιμο, ποδηλασία, κωπηλασία, κολύμπι κ.λπ. .
Η ΚΑΦΕΪΝΗ ΣΤΟ ΠΟΔΟΣΦΑΙΡΟ
Πολλά δεδομένα υποδηλώνουν ότι η καφεΐνη βελτιώνει επίσης τα φυσικά και τεχνικά στοιχεία της απόδοσης που είναι απαραίτητα σε ένα ποδοσφαιρικό αγώνα. Για παράδειγμα, η καφεΐνη μπορεί να βελτιώσει την επαναλαμβανόμενη απόδοση του σπριντ και του άλματος2, την αντιδραστική ευκινησία3 και την ακρίβεια στην πάσα4, ιδιαίτερα σε καταστάσεις στέρησης ύπνου5.
Για παράδειγμα, η μελέτη του Gant και των συνεργατών του2, έδειξαν ότι η προσθήκη 3,7 mg καφεΐνης ανά κιλό σωματικής μάζας σε ένα ρόφημα με υδατάνθρακες, βελτίωσε κατά μέσο όρο τους χρόνους σπριντ κατά τη διάρκεια των 90 λεπτών. 
Επιπλέον, η εκρηκτικότητα που αξιολογήθηκε μέσω άλματος βελτιώθηκε επίσης όταν οι παίκτες πήραν καφεΐνη (52,9 cm έναντι 51,7 cm). Ένα ενδιαφέρον εύρημα αυτής της μελέτης ήταν ότι στα τελευταία 15 λεπτά άσκησης, οι μέσοι χρόνοι σπριντ ήταν πάνω από ένα δέκατο του δευτερολέπτου καλύτεροι στην ομάδα της καφεΐνης έναντι της ομάδας χωρίς καφεΐνη (2,48 δευτ. έναντι 2,59 δευτ.).
Κατά τη διάρκεια του αγώνα, οι ποδοσφαιριστές μπορεί να βιώσουν προοδευτική κόπωση, εμφανής ως μείωση της ικανότητας να εκτελούν σωματικές και τεχνικές δεξιότητες. Οι παίκτες μπορεί επίσης να βιώσουν προσωρινή κόπωση κατά τη διάρκεια του αγώνα, εμφανής ως μείωση της φυσικής απόδοσης στα λεπτά μετά από μια ιδιαίτερα απαιτητική περίοδο του παιχνιδιού (π.χ. μετά από transition). Αυτό συνάδει με την παρατήρηση ότι τα περισσότερα γκολ σημειώνονται στα τελευταία στάδια κάθε ημιχρόνου, καθώς και στο δεύτερο ημίχρονο 6,7.
Ως εκ τούτου, αυτά τα αποτελέσματα παρέχουν μια ισχυρή αιτία για τo ότι το συμπλήρωμα διατροφής πριν από τον αγώνα είναι απαραίτητο. 
Σε μια άλλη καλά σχεδιασμένη μελέτη, ο Foskett και οι συνεργάτες του απέδειξαν ότι 6mg καφεΐνης ανά κιλό σωματικής μάζας βελτίωσαν τόσο την ακρίβεια στην πάσα όσο και στην απόδοση στο άλμα (3,9% καλύτερα από το εικονικό φάρμακο)4.
ΟΦΕΛΗ
Δεδομένων των υψηλών απαιτήσεων της προπόνησης και του παιχνιδιού, ο στόχος της καφεΐνης πριν από την προπόνηση/αγώνα είναι: 
Αύξηση της συγκέντρωσης
Μείωση των συναισθημάτων κόπωσης
Βελτίωση στην ακρίβεια της πάσας και σε άλλες δεξιότητες
Βελτίωση στην ικανότητα αντοχής και την ικανότητα επαναλαμβανόμενων σπριντ
ΠΩΣ ΝΑ THN ΧΡΗΣΙΜΟΠΟΙΗΣΕΤΕ
Ως εκ τούτου, οι συστάσεις μας είναι οι εξής:
Καταναλώστε 200mg καφεΐνης, 30 λεπτά πριν τον αγώνα ή την προπόνηση, με ένα τζελ Focus90®.
Πειραματιστείτε με δόσεις καφεΐνης κατά τη διάρκεια των προπονήσεων για να δείτε ποια σας ταιριάζει καλύτερα.
Πρέπει να συμβουλευτείτε τον διατροφολόγο σας πριν λάβετε οποιοδήποτε συμπλήρωμα διατροφής.
References
1.Burke, L. M. Caffeine and sports performance. Appl. Physiol. Nutr. Metab. 33, 1319–34 (2008).
2.Gant, N., Ali, A. & Foskett, A. The influence of caffeine and carbohydrate coingestion on simulated soccer performance. Int. J. Sport Nutr. Exerc. Metab. 20, 191–197 (2010).
3.Duvnjak-Zaknich, D. M., Dawson, B. T., Wallman, K. E. & Henry, G. Effect of caffeine on reactive agility time when fresh and fatigued. Medicine and Science in Sports and Exercise 43, 1523–1530 (2011).
4.Foskett, A., Ali, A. & Gant, N. Caffeine enhances cognitive function and skill performance during simulated soccer activity. Int. J. Sport Nutr. Exerc. Metab. 19, 410–423 (2009).
5.Cook, C. J., Crewther, B. T., Kilduff, L. P., Drawer, S. & Gaviglio, C. M. Skill execution and sleep deprivation: effects of acute caffeine or creatine supplementation - a randomized placebo-controlled trial. J. Int. Soc. Sports Nutr. 8, 2 (2011).
6.Armatas, V., Yiannakos, a & Sileloglou, P. Relationship between time and goal scoring in soccer games: Analysis of three World Cups. … Perform. Anal. … 7, 48–58 (2007).
7.Armatas, V., Yiannakos, A., Galazoulas, C. & Hatzimanouil, D. Goal scoring patterns over the course of a match: Analysis of Women's high standard soccer matches. Phys. Train. (2007).
---